CYBELE®

Face Lifting Cream : Nano Formula (Night)
Natural Botanical Extract with Collagen Stimulating Peptide®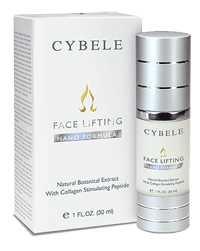 CYBELE® Face Lifting Cream:Nano Formula (Night) is a revolutionary natural formula from natural botanical extracts with proven efficacy of improving elasticity flexibility and firming tissue with its unique ingredients in the face lifting system
A new anti-wrinkle Collagen Stimulating Peptide® stimulate collagen production and promote elasticity with no side effects when applied topically , it is thus a prime choice active ingredients to participate in the regeneration of dermis weakened by age or damage that will reduce the appearance of lines and wrinkles
A cocktail natural botanical blends from the East that offer the functional scientific benefits covering Toners , Moisturizer , Night Cream and Brightener which are : THC from Curcumin , White Kwao Kruea , Paper Mulberry will help serving the trendy , portable to suit the hectic lifestyles
CYBELE® Face Lifting Cream:Nano Formula (Night) A completed all in one for facial care is now serving in one bottle with all natural and affordable

How to Use : Use once daily in the night. With the fingertips, apply a small amount in a circular motion around the entire face and neck. Gently massage until product is fully absorbed. Use regularly.
Skin Type : Normal to Oily Skin
Pack Size : 30 ml in Glass Bottle.