CYBELE® Face Lifting Cream : Nano UV Filter SPF25 (Day)
Natural Botanical Extract With Collagen Stimulating Peptide®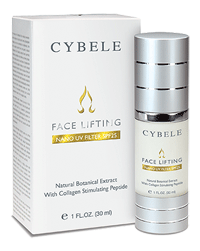 CYBELE® Nano UV Filter SPF25 (Day) is a revolutionary natural formula from natural botanical extract with proven efficacy of improving elasticity flexibility and firming tissue with its unique ingredients in the face lifting system , a new anti wrinkle Collagen Stimulating Peptide® that will ensure the feel and look younger and feeling fresh for your face.
A cocktail natural botanical blends from the legacy of Thais that offer the functional scientific benefits covering Toners , Moisturizer , Day cream and Brightener which are : THC from Curcumin , White Kwao Kruea , Paper Mulberry , Ipomoea Pes-Caprae will help serving the trendy , portable to suit your hectic lifestyles from naturals
Combined with the advance technology from the west , A new anti wrinkle Collagen Stimulating Peptide® will stimulate fibroblasts which in turn produce collagen and participate in the regeneration of dermis weakened by age or damage that will reduce the appearance of lines and wrinkles

Our revolutionary UVA and UVB Sun Protection Formula . A physical sunscreen of Titanium Dioxide and Nano Zinc Oxide with SPF25 will help your skin against photo-aging and sunburn with better translucent natural look and better feeling
A completed all in one for facial care is now serving in one bottle with all natural and affordable
How to Use : Use once daily in the morning. With the fingertips, apply a small amount in a circular motion around the entire face and neck. Gently massage until product is fully absorbed. Use regularly.